This is a bit of a 'thought experiment' as I haven't actually got any of the kit to try out and found whether it actually works in a production environment or not.  I'm also not sure if this is currently a workable solution for me and will state the drawbacks, but this could all be useful to some people- at least as a bit of an experiment
Currently there aren't really any digital mixers suitable for location work and I've been looking at potential solutions to this.   I'm aware that the Yamaha 01V96 is used quite a bit (in the US especially), but it's big, power hungry and AC powered only.
A possible solution now is that a number of computer audio interfaces will work as standalone mixers (with a suitable control surface).  They have a considerable amount of DSP power available with the ability to run EQ and multiple submixes.  Another advantage is that audio can be sent to a computer, for playback of previously recorded tracks or even processing (auditioning noise reduction, for example).
Having done some research, here are some possible combinations of equipment:

Effectively these are the same box, except the LIO-8 is a cut down version of the ULN-8, with no microphone preamplifiers or additional DSP plugin licenses.  They've been around for a while and use top quality components.  Metric Halo do continually support their products and are the only company I'm aware of who offer hardware upgrades to their audio interfaces.  At the moment there's been mounting rumours of an upgrade to the DSP and interface with a 3D card (which would not involve buying a whole new unit), which would add a class compliant USB-C computer interface, improved DSP power and an additional card slot.
This is the only computer audio interface I'm aware of with a locking DC connector (4 pin XLR)!  There's also a second barrel plug, which could be used for redundant power.  It has another unique property in that it's the only DC powered interface with sample rate converters on the AES3 inputs.  This means I could run my radio mic receivers directly into it using their digital outs.  It's got 8 analogue audio I/O and 8 digital AES3 I/O
Now for the drawbacks: it's a big box- a deep 19″ rack unit 432 x 330 x 44 mm but it weights 2.6kg which isn't too bad.  It currently only has a firewire interface and OSX drivers so requires a good bit of fiddling to get current computers to work with it.  They really need to update this and talk of the 3D card being 'coming soon' has been going on for about 2 years now.
Also, with the current architecture, the midi input will accept controllers using the mackie control protocol but needs to have a computer running in order to be able to control the mixer
These are effectively a load of different interfaces with different I/O which can be combined using the AVB protocol.  For a while there was just the Ultralite AVB which could be DC powered, but at the end of last year a couple more, the 624 and 8A were released. Furthermore a whole bunch of digital boxes were announced last month with AES3, ADAT and MADI interfaces.  All of these are in a compact 'half rack' format
I'm particularly interested in the 8D, however only half the inputs are AES3, the other 2 are SP/DIF and may require adaptors and/or sample rate conversion
The DC inputs aren't locking, but will take 12-18V, only draw 10W on the current half rack interfaces and they don't care about polarity either
The main drawback is controller integration- they won't accept midi control, only OSC over a network.  Their suggested method is using a tablet computer using a web interface. It should be possible to hook up a tablet to a midi controller and use an application such as TouchOSC or Lemur to control the interface as a mixer.  Another future possibility is programming a BomeBox, although that doesn't have OSC compatibility yet
These RME interfaces will all work with their totalmix FX mixer out of the box, and accept Mackie control midi commands.  A few features such as some of the talkback functionality won't work without a computer, however.
The drawback, however is with some of the digital interfaces used.  They all us ADAT optical format, which isn't common in broadcast equipment, so a converter box is required.  RME do one, the ADI-4DD, however it doesn't have any sample rate converters, so 2 AJA ADA4 boxes would be required to provide use with mutiple digital sources which cannot be connected to word clock.  Again, power is with a barrel plug (and it's not too fussy about voltage or polarity), although the babyface can also be powered over the USB bus, so could be a redundant power connection.
This is a system designed to work as a powerful digital mixer with a dedicated computer running all the mix software and also plugins at low latency.  It's not cheap, but is built for purpose.  Working it on DC power may be a challenge (and I expect it may be greedy), however and would require a bit of hardware hacking- looking at the motherboards on some of the host computers (the smallest Impact model, for example will run from 12V but would involve fitting a 12V PSU and invalidating the warranty).  Interface wise, only the MADI ones will run from 12V, so a MADI converter with the I/O you require would be required.  DirectOut make the Exbox.AES which converts 16 channels of AES3 to and from MADI but without sample rate converters (but is has redundant locking DC inputs!)
This is actually a real hardware digital mixer- 8 analogue in and 10 out (including the headphone out, which can be freely assigned).  I've bought one of these and it's a really compact and useful machine.  However, it doesn't quite cut it for me I/O wise- I could do with some digital ins and outs.  It's powered over USB, but can accept 2 USB connections, so redundant power can be supplied.  The touch control surface is surprisingly useable, there are 'tracks' along the faders and indents at 0dB.  The only disadvantage with the touch control is you can have 'jumps' if you take your finger off and it's not in exactly the same place as where the fader is.  The K-Mix works with the Keith McMillan MIDI expander so can use 5 pin DIN cables
This is just a control surface- but a small DC powered one.  I owned its predecessor, the iControls Pro which wasn't bad, although from picture it looks like they may have improved the build quality since.  The motorised faders are 100mm but did require a press downwards before moving them, so weren't super smooth.  In fact I quite like the idea of having smoother, non-motorised faders on a control surface).  Icon have also recently showed off an expander, the Platform Z which adds blocks of 8 faders to the 'M'.  This is designed to work with a computer so only sends class compliant MIDI over USB.  Various boxes are available which will work as MIDI hosts, however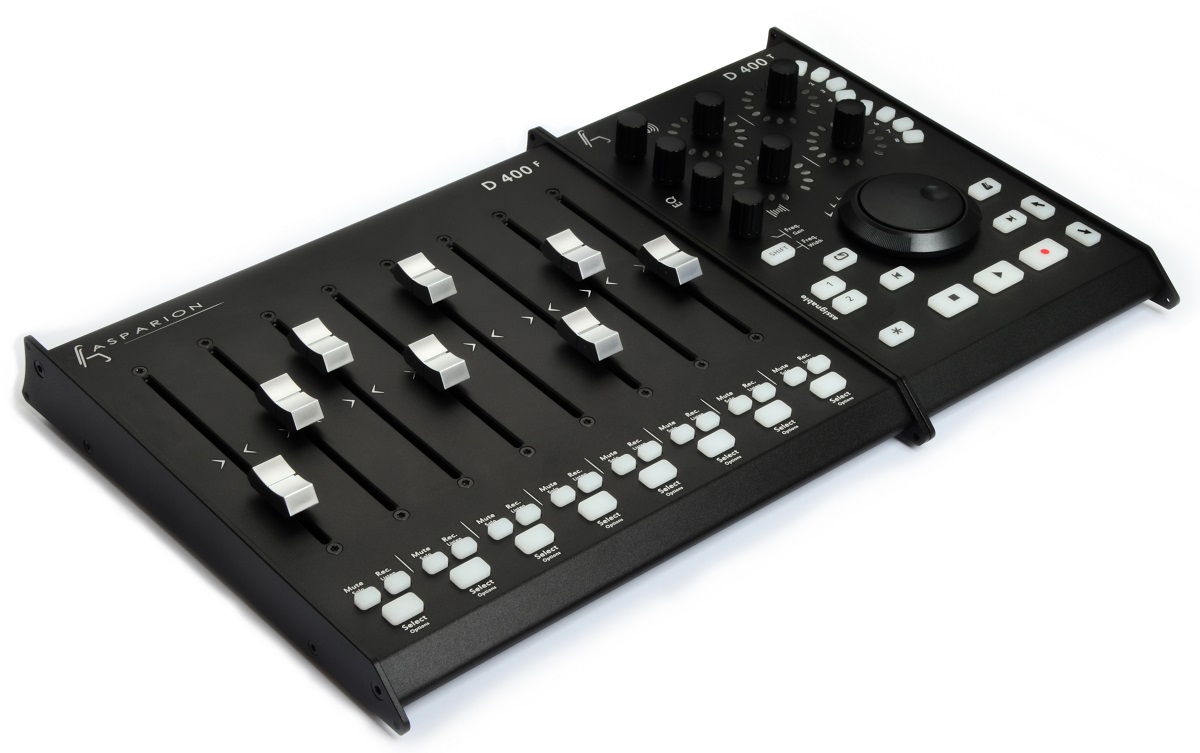 This is another control surface, again with motorised faders, a modular system except the build here looks more rugged than the Icon at first glance and has more buttons (but less knobs).  Also USB out only so may need a host device if not being used with a computer